Answered By: Chee Yong NG

Last Updated:

Jun 06, 2019

Views:

1236
1. In Scopus, run an author search to retrieve your author profile.
2. Click on your name to view your complete profile.
3. Click on Edit author profile to remove or add publications from your profile.
4. Follow the instructions on the pop up window. Select the preferred name and indicate whether you are submitting a request on behalf of someone else or for yourself.
5. Uncheck the boxes next to the publications the to remove any publications that have been wrongly attached to your profile. Click on Review Affiliation at the bottom of the table to proceed when you have finished.
6. To report Scopus-indexed publications omitted from your profile, click on Search for missing documents at the bottom of the table.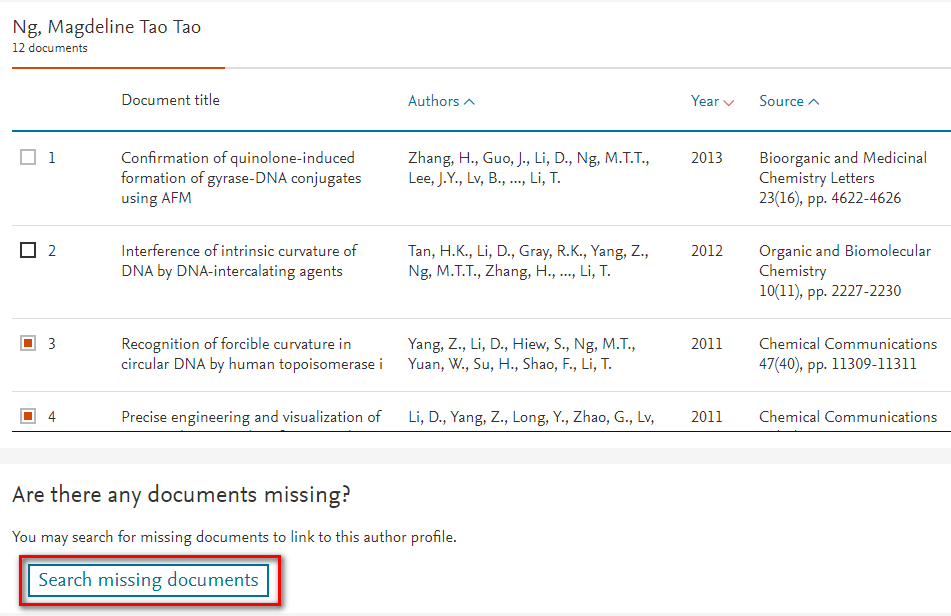 Search for missing articles, book chapters or books by title. Select the publication if it belongs to you and click Confirm author.
Repeat as needed.
7. Click on Review affiliation to proceed to review your affiliation. Once completed, click on Confirm and Submit.
8. After you have submitted your request, you will receive a verification link via email. Click on the link to confirm your request.
9. Once Scopus has done the necessary checks, the documents will be removed from or added to your author profile accordingly.